Using Khmer hand writing tool with Google Chrome extension on Windows computer to turns your Khmer hand writhing in Khmer Language to the Khmer Text.
If we talk about the hand writing on the devices that compatible with touch or pen input, it's just a simple thing. Currently most of the languages are support hand writing both on Windows PCs or Android smartphone devices. Unfortunately, the Khmer Language hand writing input keyboard only supported on Android devices. Nowadays, there is no any available Khmer hand writing input for Windows Device yet.
So, is there any way to use Khmer hand writing on Windows computer?
Yes, there is a way that allow you to use Khmer hand wring input on Windows PC by using Google Hand wiring input for Google Chrome. By using the Google Hand writing input for Google Chrome web browser, it will allow you to transform your hand writing to the text that it's support so many languages include Khmer Language. Over more, if your device does not support touch or pen input you can use the mouse to drew the text then it will transform them to the text as well. Handwriting input lets you to write down words directly with mouse or trackpad. Handwriting supports over 50 languages.
How to install Google Hand-Writing input Google Chrome extension on Windows PC
Google Input Tools Chrome extension allows users to use input tools in any web pages in Chrome. To use Input Tools Chrome extension, follow these steps:
Install Google Input Tools

You can add Google Input Tool Google Chrome extensense by download from official Google Chrome webstore here.

Google Input Tools official website

On Google Chrome web browser for Windows please click the extension icon and select "Extension options"
Please navigate to "Extension options" page, an then select the input tool you want from left to right.
Double click on the left to add an input tool. Double click on the right to remove a selection.
Sort selected input tools by clicking on an input tool on the right, and clicking on and icons.
To use an input tool, click on the extension icon. In the drop-down menu that appears, select the desired input tool. With an input tool turned on, the extension button becomes a full colored icon, such as

. When an input tool is off, the button is grayed out

. Clicking on "Turn off" will toggle off an input tool. You can also click on the selected input tools to toggle on/off.
Now you have toggled on an input tool, open a web page, move the cursor to the input box, and start typing. If it doesn't work, refresh the web page by clicking on

.
Related articles on how to use individual input tools:
For more detail please visit: Google Input Tools Chrome extension instruction page.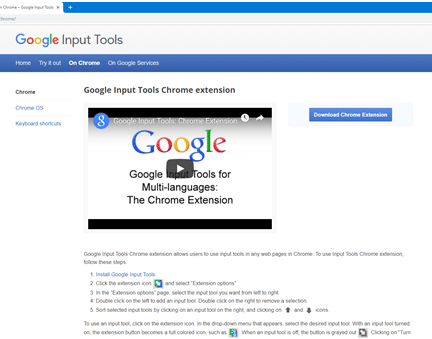 How to enable Khmer input on Google Input Tools Chrome extension
After you have installed the Google Input Tools on Chrome web browser, then you will be enable Khmer input as well. Now let's see step by step to enable Khmer Language on Google Input Tool:
On Google Chrome Extension bar click on keyboard icon (

) and then click on

"Extension option"

you will see the available language that supported with Google Input Tool for Google Chrome Web Browser.

Scroll down the Language list on the left side and select Khmer Hand writing input (Please see the picture) and click add it to the right side column.
After you have added the Khmer Language input then you see the Khmer Input icon available on the Google Input Tool. Please click on .


When it pub-up the Hand writing input panel, then you can use mouse, touch or pen to write down any word that you want.

Khmer Hand Writing input on Google Input Tool for Google Chrome Windows PC
You may also use the Google Input tool to write down the text instead of typing on the Google Chrome web browser with writing email, Facebook post, or chat very easily. Over more, if your Windows device support pen input such Microsoft Surface, Samsung Galaxy Book 12 and so on so may use your Windows Tablet just like a real book.
Thank you so much for reading my blog post. I hope this post could help you to be able using Khmer Hand writing your computer. If you have any opinion, please leave the comment blow. And also if you think this article is useful please help share it your friends through the social media