Fixing font Khmer Unicode in Adobe Photoshop that they are not working correctly by download fonts that design for Adobe program.
There is many font Khmer Unicode that you can download and install on your computer. Most fonts Khmer Unicode are working well with Microsoft applications such as Microsoft Office, but you can not use those fonts in Adobe programs or any other video editing program like Cyberlink.
In this post, I will show the figure to help you find the easy way to fix the problem about the font script of Khmer in the Adobe program.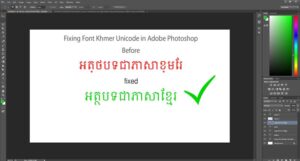 It's not only you that face the problem with typing Khmer text using Khmer Unicode in Adobe Photoshop, so the Font makers have made new fonts Khmer that supports with many windows applications like Adobe programs and other Video editing programs. And also you can use a new font Khmer for as the web font for your sites or blog. And also you can learn more about How to install Khmer Web Font into your website here. 
Download Khmer Unicode fonts for Adobe Programs
You have some font styles for your design project by downloading and install font Khmer Unicode on your computer. The new font Khmer Unicode that supports with Adobe program and another video editing software are mostly the same name with the regular font Khmer Unicode but did not include the prefix "Khmer -" or "Khmer OS -." And also you should remember the fonts' name to make you easy to chose the right Font Khmer Unicode quicky.
You can download the font Khmer Unicode for Adobe from the download link below:
How to install Khmer Unicode fonts
To install a font in Windows is very easy. Please copy the font file to the Font folder in your Windows folder in drive C by following: C:WindowsFonts or,
Or:


You can install a font for Windows, follow these steps:
Please right Click

Start Menu

, and then click

Run

or search "Run" in the Search bar

.
With the Run Windows dialog box, please Type the following command line in the box, and then click

OK

:
On the

File

menu at the top left corner, please click

Install New Font

.
You can browse the font In the

Drives

box, Please click the drive that contains the font that you want to install in your Windows.
In the

Folders

box on the left side, please click the folder that contains the font that you want to install in your Windows, and then click

OK

.
In the

List of Fonts

box, click the font that you want to install. And also you can select more than one font at a time, just press and hold the CTRL key while you select each font.
Click to select the

Copy Fonts To Fonts Folder

check box. The new font is saved in the

WindowsFonts

folder.
Click

OK

.
Or:
You can install the font by right click on a font or select multi-fonts and then select Install.
In addition, You also download Font Khmer Unicode for Adobe program to fix the font Khmer problem.
And also you can learn more about how to install or remove fonts in Windows at the Microsoft
Windows support page
.
I appreciate you for visiting my blog and read this post. I hope that this article could help you to fix the problem with font Khmer Unicode in Adobe Photoshop. If you have any problem of installing process please fell free to leave your comment below, then I will help you to fix it. If you enjoy this post, please like and share this article with another friend.